'Featuring over 350 royal treasures, exquisitely crafted in jade, gold, silver and bronze,
The Search for Immortality
is the most important exhibition of ancient Chinese art ever shown in Britain. It is also the first time the spectacular archeological finds of the Han family royal burials from their ancestral home town of Xuzhou have been brought together with the treasures from the tomb of the King of Nanyue in southern China, who also aspired to the title of 'emporer'.The exhibition explores these kings' quest for immortality and the struggle for imperial legitimacy in ancient China's Han Dynasty, which established the basis for unified rule of China up to the present day.', (The Fitzwilliam Museum)
This is an eye-opening exhibition to the art forms of ancient China, the immense decorative detail that goes into even the most normal of objects for the royalty of the 2nd century BC. Weapons, body suits, coffins, musical instruments, ornaments, plaques, basins and gold seals make up just some of the artifacts in this huge gathering. Personally, the incredible sense of social status and riches was the most surprising thing about The Search for Immortality, everything was made from gold and jade and other priceless materials. When looking at the work, the symbolism within some of the decorative detail was fascinating, and there was a strong feeling of the celebration of life and afterlife in looking at the burial gifts and burial suits.
Here is a photo of one of the burial suits in the exhibition, which were worn only by royalty, and made from stitching together plates of jade stone. The one above is composed of 4,248 jade plaques, sewn with 1,576 grams of gold thread. The suits are so old that the jade has lost its green colour. In my opinion, this was the most impressive piece in the whole exhibition.
Below are some of the other pieces i found particularly interesting. Overall, this exhibition was really enjoyable and i would definately recommend it for the viewing of these rare artifacts and the fascinating stories you can learn behind them.
Gold belt plaque, 2nd century BC, Western Han dynasty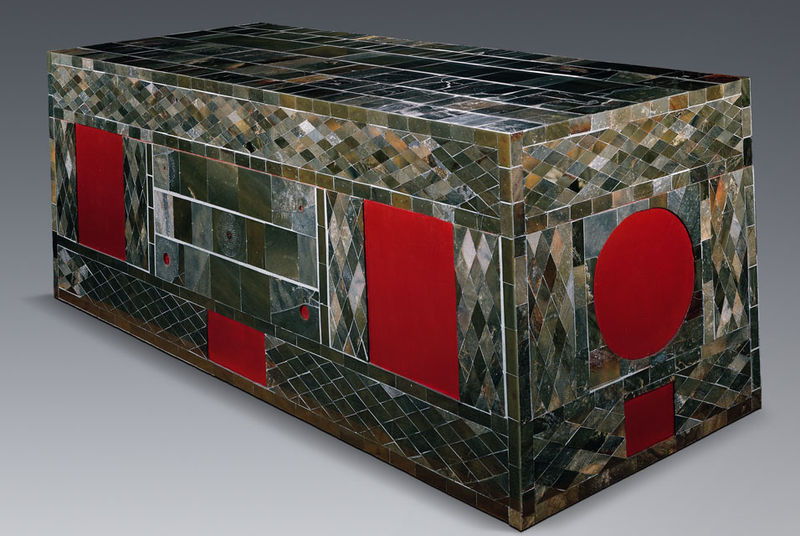 Jade coffin, 2nd century BC, Western Han dynasty
Leopard-shaped stone weight, 2nd century BC, Western Han dynasty